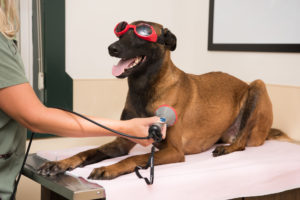 Hudson Highlands Veterinary Medical Group is excited to be able to offer Laser Therapy for treating your pet's pain.
In order to better care for your beloved companion, we have invested in a new laser therapy unit. Therapy lasers use deep-penetrating light waves to stimulate cells to produce anti-inflammatory and other mediators which speed healing. They can also be used to help decontaminate wounds and lesions. Unlike surgical lasers, therapy lasers are "cold lasers" and generate very little heat. They do not burn the patient and are exceptionally safe.
Therapy lasers have been used for a number of years, but until recently, they were primarily Class III lasers which do not penetrate as deeply as the Class IV lasers. They are used in veterinary and human medicine alike (several of these units made the trip to Beijing with the US Olympic Team). The Class IV Lasers, such as the one recently acquired by Hudson Highlands Veterinary Medical Group, have deeper penetration and treatments can be accomplished more quickly than with the Class III lasers. Most treatments can be done in less than five minutes.
We are excited about how laser therapy can help your pet! The laser can be used for acute pain such as wounds, surgical incisions, intervertebral disc disease (back pain), or for chronic pain such as osteoarthritis and lick granulomas. Laser therapy can be used to decontaminate wounds and lacerations, treat chronic otitis, decrease inflammation or edema, and can increase healing time of fractures. Some disorders can be improved with a single treatment, but chronic disorders require multiple sessions over several weeks and most likely require occasional follow-up treatments to maintain pain relief.
We are also excited to be able to offer this new treatment to our feline patients with chronic arthritis who, until now, have had extremely limited options for pain relief.